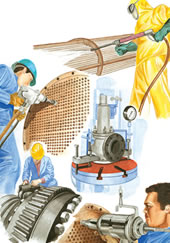 Equipment for production, testing and maintenance of heat exchangers

Expanders, electric and pneumatic rolling machines.
Hydraulic tube pullers.
Hydraulic tube bundle pullers.
Pipe cutting machines, pneumatic saws.
Cleaning: drive shaft and flexible shaft cleaners, HP cleaning units for inside and outside of tubes

Hydraulic and mechanical tightening equipment

Torque-limited hydraulic and mechanical wrenches, box-end wrenches to strike with thin fabric.

Maintenance equipment for valves, safety valves tubes, piping and constructed boilers apparatus

Hydraulic, manual or pneumatic testing pumps.
Tube plugs for all pressures, sealing balloons.
Safety valves testing bench, valves testing bench.
Flexible scrapers and launching traps for pipes.

Safety equipment

Temperature indicators.
Anti-spark, anti-ignition andanti-magnetic tools.

Surface treatment

Sandblasting.
Shotblasting.

Workshop equipement

Manual tools.
Safety and accident prevention.
Lifting and handling equipment.
Portable electric tools.